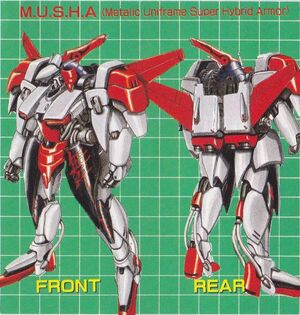 The Metallic Uniframe Super Hybrid Armor, or MUSHA Aleste, is the player ship from M.U.S.H.A..
The MUSHA is a large flying Armed Armor suit. It was originally designed for construction work in space, but was later retrofitted with extra plating and weaponry for combat. Though the current model is still a prototype, it has already proved to be the strongest of all the Armed Armor designs. Not only it can exchange its weaponry on the fly with different subweapon attachments, it also comes equipped with support options which can be stocked and positioned in different formations, giving it extra versatility.
Barrier
Item Bomb
Item Chip
Carrier Beam
Item Beam
Unit Power
Chip Barrier
Unit Black Hole
Bomb Unit
Carrier Napalm
Bomb Bomb Normal
Shot Bomb
Unit Option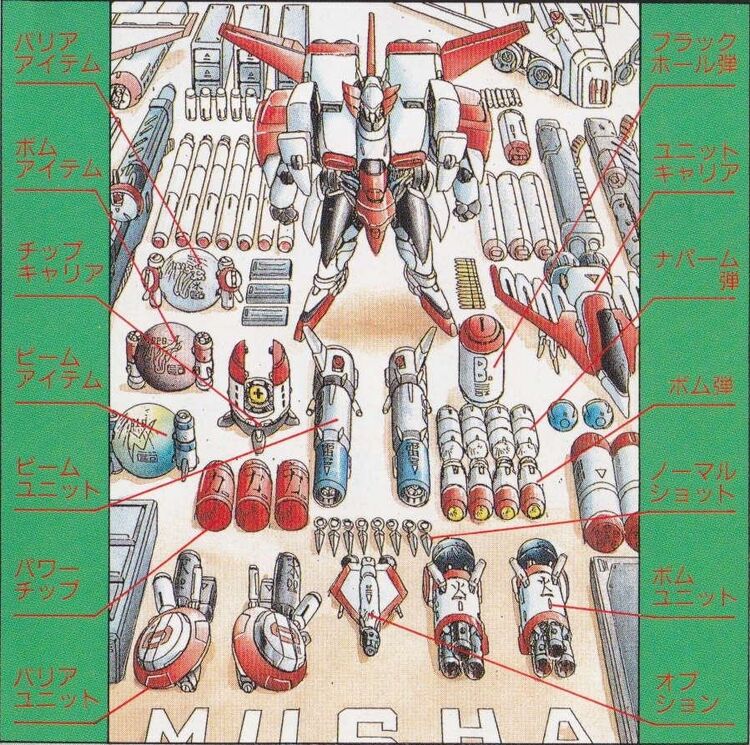 | Icon | Name | Description | Screenshot |
| --- | --- | --- | --- |
| | Seal Cluster | MUSHA's main weapon, it shoots bullets forward. It can be strenghtened by collecting power chips. | |
| | Blazing Beam | Shoots a lightning beam forward. Powering it up strengthens the beam and allows it to shoot two beams at once. | |
| | Vanishing Buster | Shoots bombs which detonate in front of the ship or upon hitting enemies. Powering it up allows to shoot more bombs. On maximum power it will also create black holes which attract enemies and shots. | |
| | Defensive Detonator | Creates a ball of energy which rotates around the ship, protecting it from damage. Powering it up strenghtens the barrier and creates one extra energy ball. On maximum power it will also shoot energy balls forward. | |
Community content is available under
CC-BY-SA
unless otherwise noted.